When I bought a condominium on Summerhill Avenue in Toronto almost 20 years ago, the neighbourhood was upscale yet artsy, known for stained glass windows and family-friendliness. Walking my daughter to school each day, we passed the remnants of the Atlas Umbrella company on a vacant lot just a block down the street, across from the train tracks. Over time, the derelict train station was reborn as a trendy liquor store and the surrounding land filled in with multi-million-dollar condo apartments. By the time I sold my home this past September, all the vacant land and most of the stained glass were gone. And my kids weren't kids anymore.
 Initially I planned to move to a smaller place in the area, or maybe farther north up Yonge Street. When I started looking I was shocked by the prices for freehold homes; around the corner from my old place, a row house, maybe 800 square feet, was listed "as is" for $1.5 m. "Walk-bys only," said the ad. My realtor emailed me a listing for a bleak little bungalow, also priced at $1.5 m. Around the same time, I visited a friend at her spectacular home near Hamilton Ontario. Looking online, I discovered that for $1.5 m you can buy almost any house in Hamilton, or two or three very habitable ones
When I thought about it, not only was I turned off by million-dollar tear-downs, I didn't even want to live in Toronto. I'd been complaining for years now about the same things I used to boast about. Public transit, for instance, had become increasingly unreliable; the day my house went on the market, a trip downtown estimated by Google at 20 minutes took me more than an hour and a half, first with a train delay and then a missing streetcar.
In the past, greenspace had been another point of pride, but now the massive park across the street was closing for at least three years. They'd been felling trees all summer and now giant yellow machines were chewing a gaping hole into the hillside. Every other empty space seemed destined for condo high-rises, starting at $1 million or more for the shoebox size. And while Torontonians were formerly known for our mild manner, shootings, once rare, were at an all-time high. After living here all my life, the city's reputation as New York North had taken on an ominous new meaning.
My Hamilton friend introduced me to her realtor, who drove me around the city one sunny autumn afternoon, showing me the various neighborhoods, the parks, and the waterfront. The leaves were turning and I wanted to move before the snow fell. We looked at many houses, but none was exactly right. I ran out of time as the closing date for my home approached, the week before Christmas, and rented an apartment across the street from Bayfront Park.
The park opened in 1993, the fruition of a $9 million reconstruction project. Thousands of tonnes of contaminated industrial rubble were removed and a wasteland transformed into a waterfront recreation area with a band shell, beach, marina, and an appreciative population of Canada Geese, swans, and other birds. The Waterfront Trail connects Bayfront Park to Cootes Paradise, the scenic highlight of Highway 403. Declared dead in the 1970s due to sewage and carp, this 600-hectare wildlife sanctuary is now one of the largest wetlands on Lake Ontario, abundant in a diverse range of plants, animals, and fish. While the natural environment has now been restored, maintaining Mother Nature's beauty requires ongoing effort. Watching workers pour asphalt and move boulders to reinforce the shoreline reminds me how fragile this is, how even rocks and concrete wash away over time.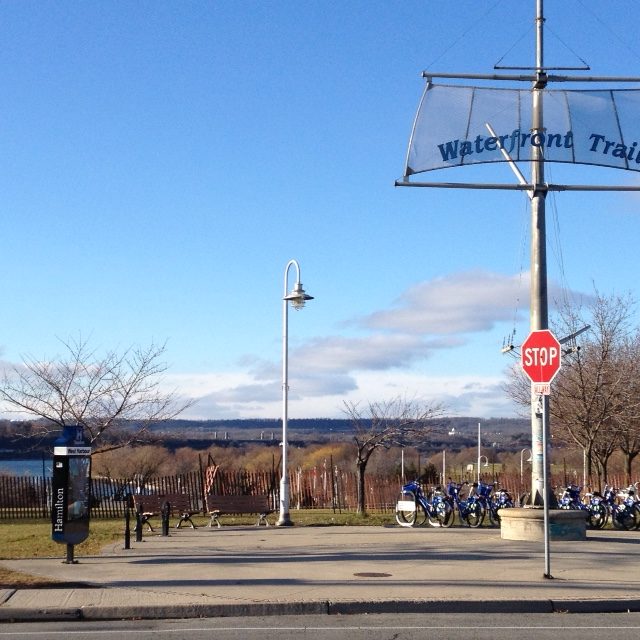 On Sundays I walk over to King William Street to meditate with my friends. We meet upstairs from Rust City Brewery, about 20 minutes from where I live. Someone told me my new North End neighbourhood is Ground Zero for urban renewal here, and that's how it feels, walking past construction projects, signs against gentrification, and shops selling T-shirts "Hamilton is Music," "Hamilton is Film," and "Hamilton is Home."
While my current address is temporary, I plan to stay in the city long term. I signed my lease the same day my book Sit Still and Prosper went live on Amazon. It's the story of how meditation opened my eyes to a broader range of possibilities for my investment portfolio and for my life. When I wrote the book, I had no intention of leaving Toronto, Canada's financial centre and my lifelong home. Yet here I am, watching the transformation of Steeltown into a new nature-friendly metropolis. Not what I expected, but I hope to enjoy it while it lasts.